Dive into the labyrinthine world of Osaka Station, an epitome of Japan's rail excellence. This behemoth is more than just a transport hub—it's a sprawling center of culture, commerce, and convenience.
Overview of Osaka Station
Not to be confused with Osaka-Namba or Shin-Osaka (where Shinkansen bullet trains stop), Osaka Station is one of the busiest in western Japan. Modern renovations have transformed it into a complex with shopping, dining, and entertainment.
Discover the difference between Osaka station vs. Osaka Umeda vs. Shin Osaka vs. osaka-namba station
Trains and Platforms
JR Kyoto/Kobe Line: This line zips you off to historical Kyoto, cosmopolitan Kobe, and castle-studded Himeji. Platforms 1 to 10 are your go-to.
Osaka Loop Line: A ring around Osaka's heart, hitting tourist spots. Hop on at Platforms 1 to 4.
Other JR Lines: Dive deeper into Kansai from Platforms 11 and upwards, connecting you to places like Nara and Wakayama.
Connections
Just a short walk and you're in Umeda Station, a sister hub, linking you to:
Hankyu Umeda Station: Access to Kyoto, Kobe, and Takarazuka.
Hanshin Umeda Station: Routes to Kobe and Amagasaki.
Midosuji Subway Line: This deep-red line plunges through Osaka's main attractions.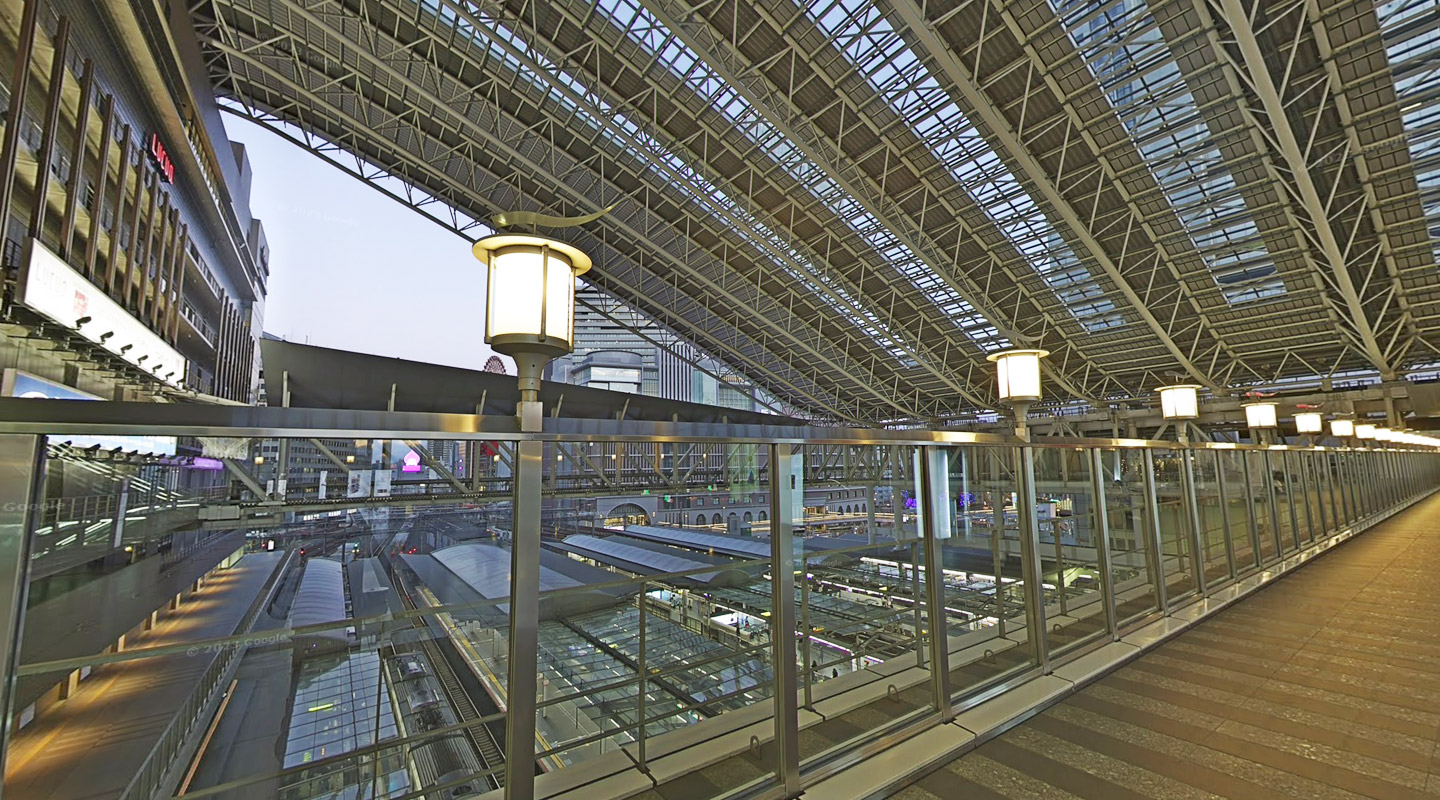 Facilities for the Modern Traveler
Lockers: From compact to capacious, lockers (especially near the Central and Sakurabashi gates) store luggage.
Information Centers: Found near the main entrances and central concourse, these centers offer multilingual assistance.
ATMs: International-friendly machines, notably in the 7-Eleven cater to your cash needs.
Shop & Dine
Lucua & Lucua 1100: Over 10 floors each, these malls flaunt international brands, chic local boutiques, and rooftop gardens.
Daimaru: Spanning 13 floors, it's a blend of luxury brands, cosmetics, a vast food basement, and Japanese crafts.
Culinary Delights: Whether it's sushi bars, ramen corners, elegant restaurants, or international cafes, there's a gastronomic haven waiting to be discovered on almost every floor.
Lodging
Directly connected, Hotel Granvia Osaka offers luxury with a view.
Nearby, you'll find options from boutique stays like Daiwa Roynet to opulent experiences at The Ritz-Carlton.
Attractions Around
Umeda Sky Building: Roughly 10 minutes on foot, this architectural marvel has an observation deck with 360° views.
Kita-Shinchi District: 5 minutes away, this area buzzes with upscale restaurants, bars, and nightclubs.
Accessibility
Thoughtfully designed, the station provides elevators, escalators, and tactile guides. Wheelchair-friendly restrooms and ramps ensure comfort for all travelers.
Summary based on multiple reviews from travelers who visited Osaka Station:
Station Infrastructure

Grand and large station
Nice engineering structure
Unique and beautiful architecture, including a massive roof
Significant and vibrant railway system with multiple different railway lines and companies

Other Facilities

Shopping centers: Shops for anything
Restaurants: Local and Western cuisine, cafes
A variety of activities
Spacious park to hang out
Photography spots

Accessibility

Well-organized for efficient transit
Clear road signs and directories
Many staff members speak English
Availability of convenience stores and terminals for tickets or card top-ups

Location
User Experience

Can get a bit busy and crowded, especially during rush hour or when there are delays
Due to its size, it's not uncommon for visitors to get lost
An excellent place to spend an afternoon
For travelers with flights, please note the Haruka platform is in a different building