A melody of lights, sounds, and cultures – welcome to the Namba Travel Guide, one of Osaka's most bustling and vibrant districts. As you dive into this piece, we'll help you navigate the sensory feast that awaits you in this incredible part of the city.
Getting There:
From Osaka Station, hop onto the Osaka Metro Midosuji Line. In roughly 15 minutes, alight at Namba Station, and you'll be immediately thrown into the heart of the action.
The Highlights:
Dotonbori Street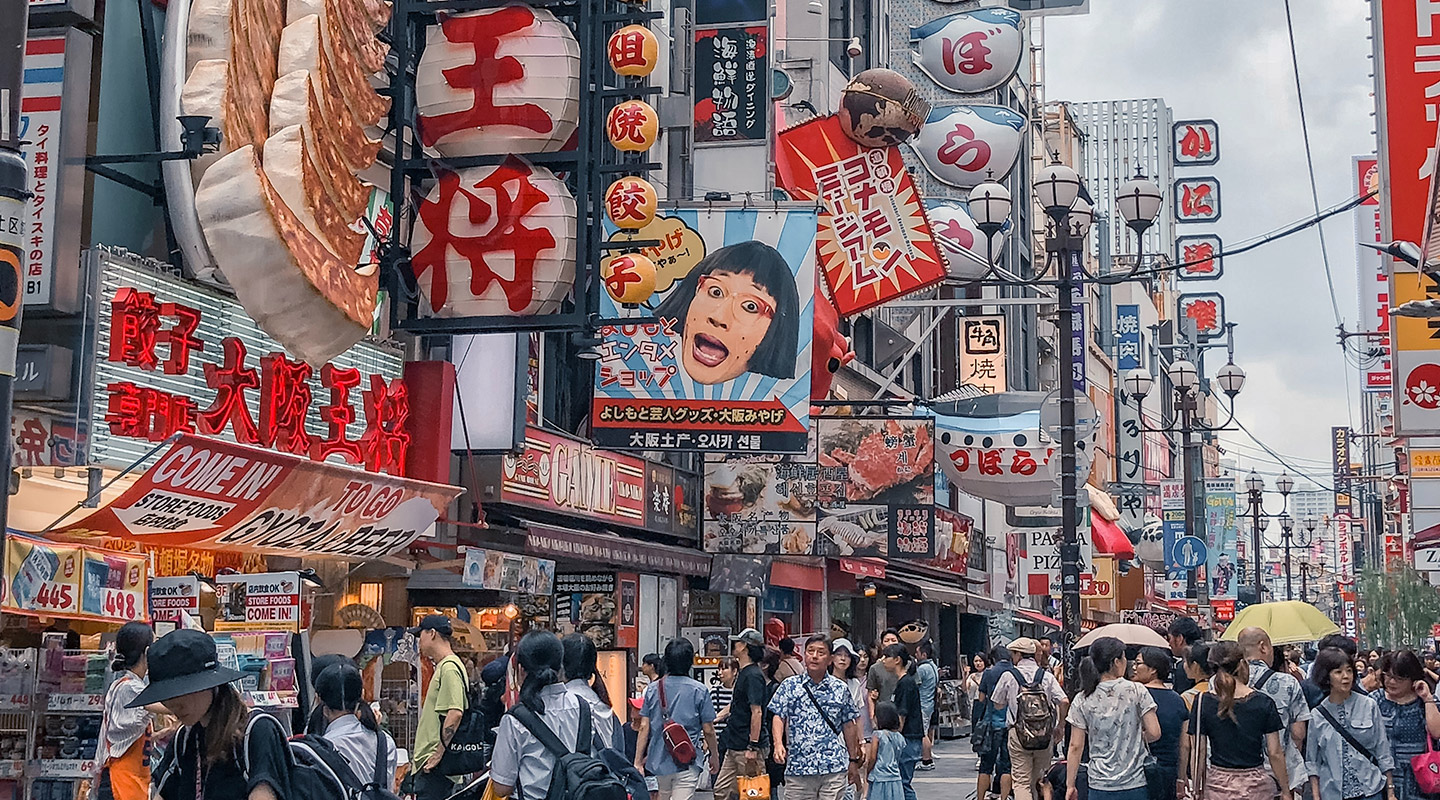 Without doubt, your Namba experience should begin on the neon-lit streets of Dotonbori. Renowned for its theatres, shops, and restaurants, this street comes alive in the evening. Look out for the iconic Glico Man billboard, a landmark of the city.
Summary based on multiple reviews from travelers who visited the Dotonbori Street:
Atmosphere

Popular and busy area, often compared to Times Square in NYC in terms of energy and vibrancy.
Beautiful and attractive, especially at night with the glow of big lights and signboards.
Can be crowded, especially during the holiday season and weekends, sometimes to the point of being overwhelming.
Highly recommended for tourists visiting Osaka for the first time.

Availability of Food and Shopping

Offers a wide variety of food options from various vendors, cafes and restaurants.
Industry workers actively encouraging patrons to try their offerings.
May require some browsing to avoid filling up at a single place due to the many food choices.
Also a good place for shopping, with a variety of stalls and shops.

Cultural and Entertainment Aspects

Presence of the iconic Glico Man sign, a popular spot for taking photographs.
Offers a unique opportunity to observe and guess the origin of the tourists.
Street shows and side shows aplenty for amusement.

Safety and Comfort

Being extremely crowded, care needs to be taken of personal belongings.
While generally safe, some incidents of rowdiness or unpleasant behavior (like door kicking or shouting) can occur.
Advisable for families with kids, teenagers, or elderly people to stay together while exploring the area.
No public toilets available unless you dine at a restaurant or a café.
Shinsaibashi Shopping Street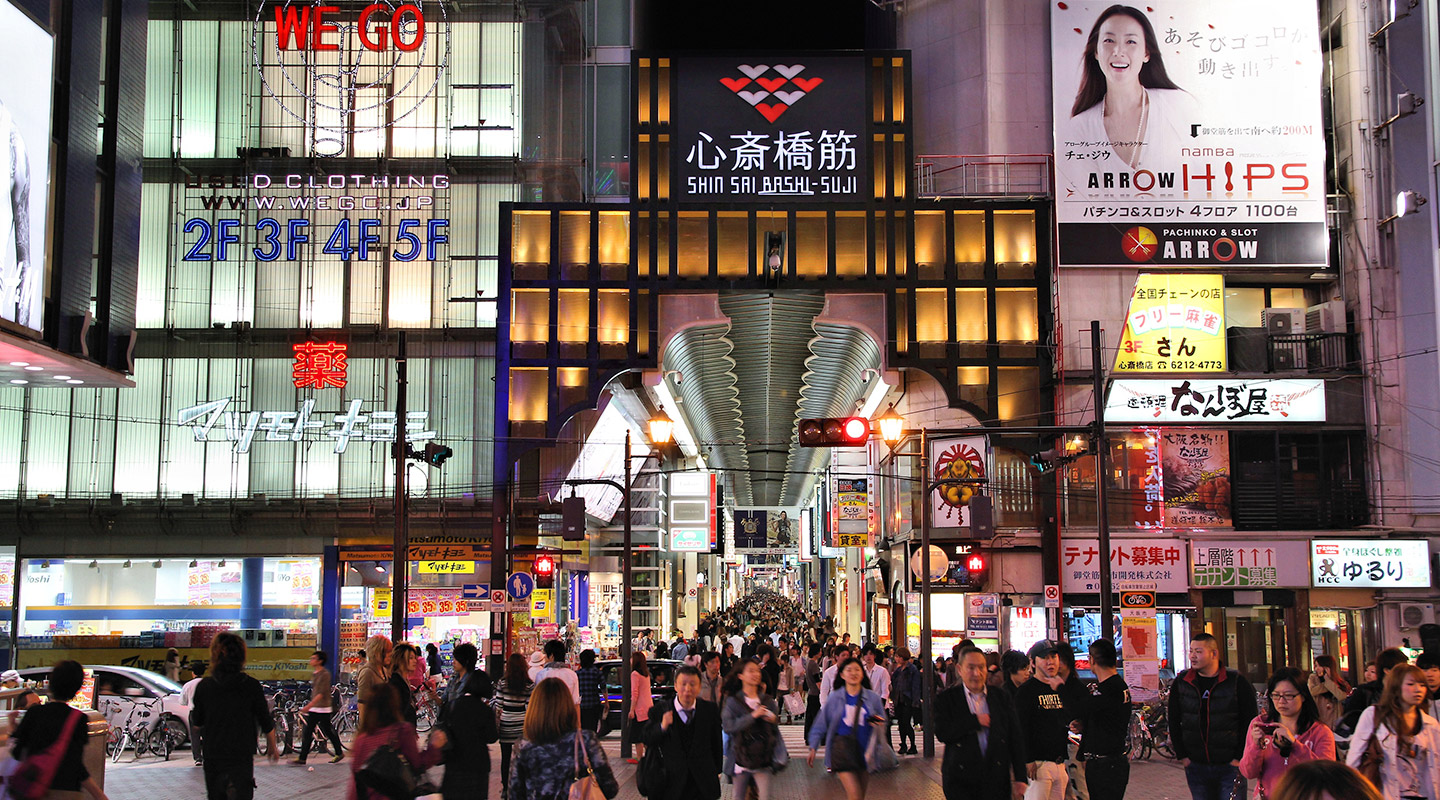 Adjacent to Dotonbori, Shinsaibashi is a shopping paradise. Spanning 600 meters, it's home to both international brands and local boutiques. And when the day gets too hot, the arcade's roof provides a comfortable shopping environment.
Summary based on multiple reviews from travelers who visited the Shinsaibashi Shopping Street:
Night life and street scene

Lively and colorful atmosphere
Bustling and vibrant
Lots of people and an exciting vibe

Shopping

A wide variety of shops, from low end to high end
Both international and local brands available
Ambient shopping street covered with a roof
Bargain opportunities

Food and Dining

Many places for food and snacks
Street food and restaurants are available
Experience the local cuisine

Convenience

Nearby rail station for easy access
Several streets connect the area, making it expansive but navigable
Accessible at different day times, although shops may close between 7 pm and 8 pm

Cultural Experience

A chance to experience Japanese lifestyle, technology and system
A blend of modern and traditional aspects
Highly visited by tourists, offering a multicultural atmosphere
Hozenji Yokocho Alley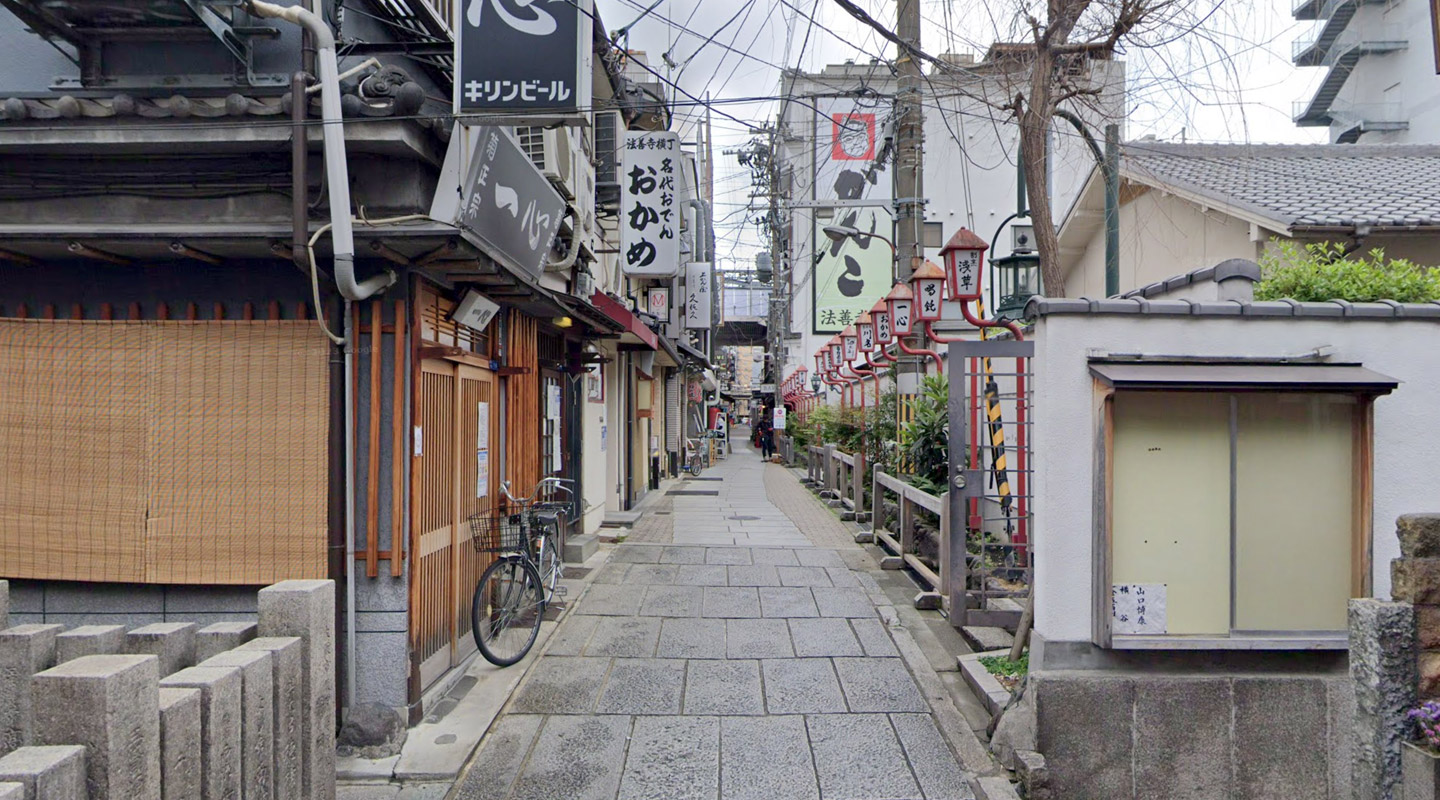 A stone's throw away from the clamor of Dotonbori, this serene alley offers a trip back in time. It's lined with traditional eateries and bars, but the highlight is the Hozenji Temple. Don't forget to sprinkle water on the statue of Fudo Myoo for good luck!
Summary based on multiple reviews from travelers who visited the Hozenji Yokocho Alley:
Street Features:

Cobblestone street
Traditional Japanese style street
Rustic and quaint atmosphere

Attractions:

Hozenji Temple
Moss-covered Buddhist statue
Monuments with English translations

Food & Beverage Qualities:

Long-established Japanese restaurants
Okonomi-yaki restaurants (Japanese pancakes)
Kushi-katsu restaurants (skewers and fried meats and vegetables)
Tiny bars at night time

Shops:

A secret alley of shops
Nice souvenir stalls

Ambiance:

Peaceful atmosphere
Old-time Japan charm
Quiet during the day
Buzzing at night

Surroundings:

Located in the bustling Minami district
A distinct contrast from the busy Dotonbori tourist area
Namba Yasaka Shrine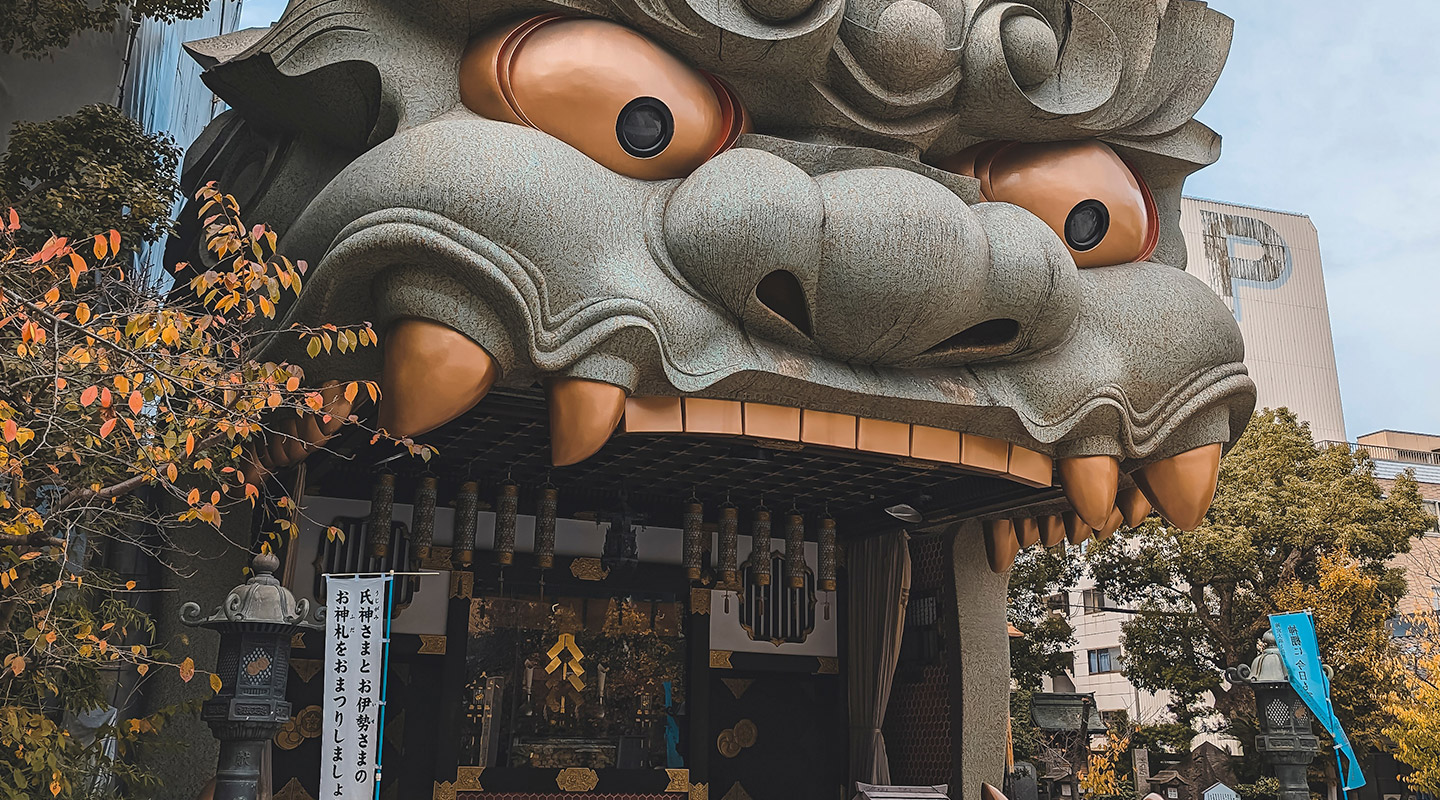 While Namba is recognized for its urban attractions, it's also home to the iconic Namba Yasaka Shrine. The lion head stage here is a frequent venue for cultural performances.
Summary based on multiple reviews from travelers who visited the Namba Yasaka Shrine:
Shrine Appearance

Lion or dragon shaped main attraction
Unique architectural structure compared to other shrines
Giant lion head is the main draw
Majestic appearance

Activities

Opportunity for prayer
Opportunity for fortune telling
Possibility to buy lucky chains
Can receive a unique goshuin (shrine book stamp)

Location and Accessibility

Located in the middle of the city
Accessible from the subway station
Walking distance from Namba station

Timing and Visitors

Typically not too crowded
Can be crowded on weekends
Better to visit early morning for fewer crowds

Duration of Visit

Most visits last 15-20 minutes

Shops and Amenities

Little shop inside the shrine
Kuromon Ichiba Market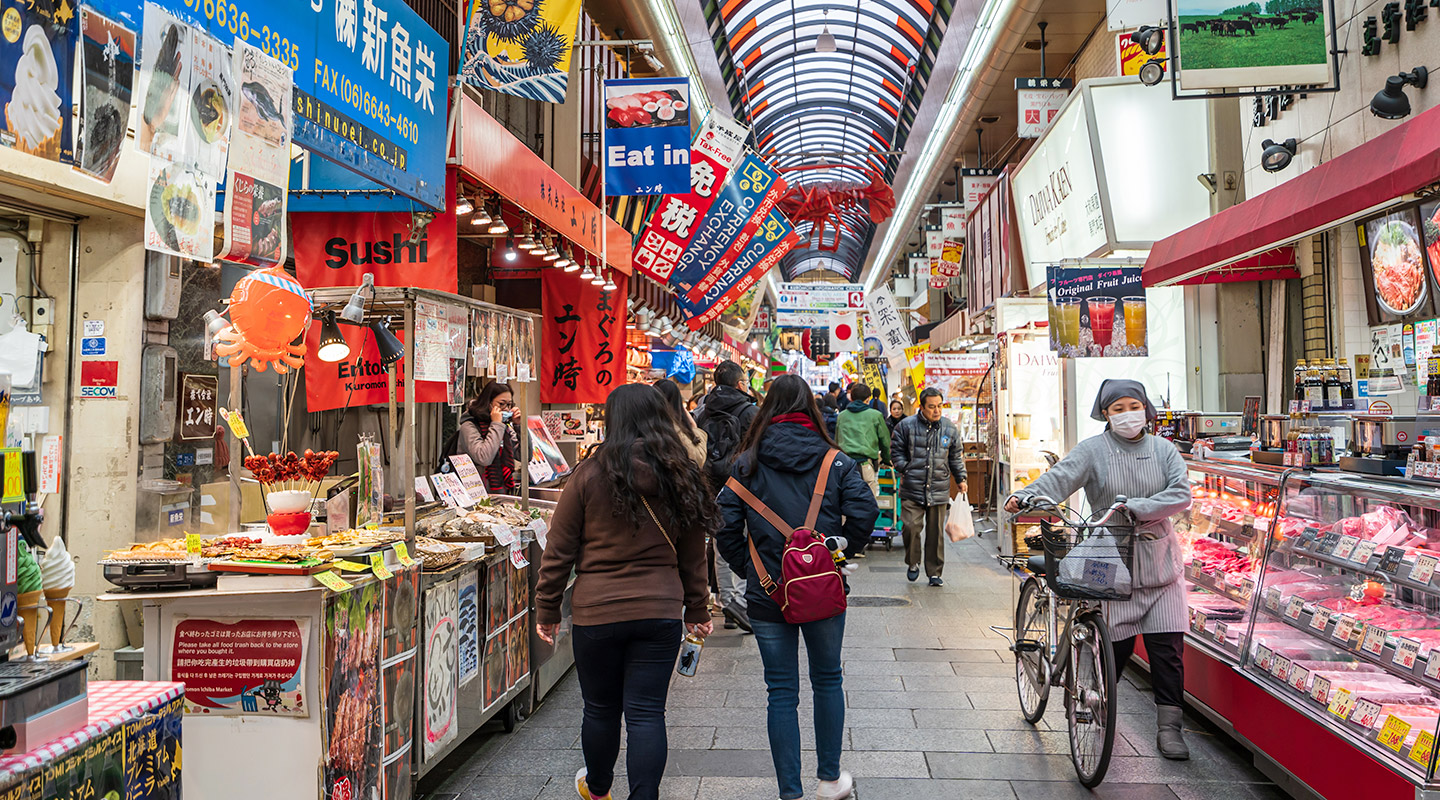 A gastronomic journey awaits you at this food market, where you can sample everything from fresh sashimi to takoyaki.
Summary based on multiple reviews from travelers who visited the Kuromon Ichiba Market:
Variety of Seafood

Prawns, shellfish, lobsters and eel are some of the seafood mentioned.
Specialty seafood such as snow crab, scallops, oysters, sashimi and unagi are also available.
Unique offerings include puffer fish and huge scallops.

Meat Options

Kobe beef and wagyu beef are highlighted as premium meat selections.
Meat can be enjoyed skewered or in other culinary presentations.

Price Points

Prices for items vary, but some are mentioned as reasonable or cheaper.
Select choice seafood can be more expensive.
Some visitors felt the price of items was on the higher side or overpriced.

Presentation and Quality

Seafood is described as incredibly fresh.
Many items are grilled in front of the guests.

Ambiance and Experience

The market can be crowded at times, but not overly so.
Some stalls have English speaking staff, making it convenient for international guests.
The location is accessible and easy to find.

Other Food and Beverage Options

In addition to seafood, options include seasonal fruits, sushi and novelty items like pufferfish.
Unique beverages like white strawberry smoothies are mentioned.
Some stalls offer desserts like brown sweet rice cakes on a stick.

Cleanliness and Vendor Interaction

Reviewers noted that the market was very clean.
Vendors were described as nice and helpful.
Some vendors may price their goods higher than others, but guests can explore other options nearby.
Special Aspects:
Nightlife and Bars
Namba's vibrant nightlife is something that stands out, particularly in the southern part of the district. Bars, izakayas, and clubs dot the landscape. For a unique experience, seek out a tachinomi, a stand-and-drink bar where you can mingle with locals.
Theatre Culture
The Namba Grand Kagetsu Theater, run by the comedic powerhouse Yoshimoto, showcases the traditional Japanese comedic art of 'Manzai'. A night here promises cultural insight wrapped in laughter.
Local Delights
Namba's special dish is takoyaki, delicious octopus-filled dough balls. Many stalls in Dotonbori vie for the title of 'Best Takoyaki', so consider a tasting tour.
Navigating Namba
While the Namba station is the main access point, there are several other train and subway lines serving the area. Nankai Namba Station is your gateway to Wakayama and Kansai International Airport, while JR Namba Station connects you to other parts of the city.
Namba Travel Guide Pro Tips:
Taxis: At night, especially after the subways close, Namba is awash with neon lights from taxis. If you stay out late, ensure you have a map or your hotel's address in Japanese for convenience.
Pickpockets: Like all touristy areas, keep an eye on your belongings, especially in crowded places.
Language: While most signs are in English and Japanese, not everyone speaks fluent English. A translation app or basic Japanese phrases can be handy.
Footwear: With so much to explore, comfortable shoes are a must.
Namba in Osaka is not just a neighborhood; it's an experience. It's a harmonious blend of the traditional and modern, where every corner has a story. So, whether you're here to shop, eat, explore, or just soak in the ambiance, Namba promises memories that will last a lifetime.